Saleem Arif
Managing Partner
Telephone: +44 203 540 6007
Mobile: +44 786 648 6981
Saleem has almost 20 years of experience in capital markets and investment banking having held senior roles at Deutsche Bank and at Barclays Capital in Special Situations, Credit Restructuring & Syndicated Leveraged Loan desks. He holds a Master degree in Banking and Finance from Loughborough University.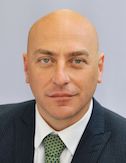 Michele Del Bo
Managing Partner
Telephone: +44 203 540 6010
Mobile: +44 734 284 5159
Michele has 20 years of experience in both special situations, distressed debt trading, NPL investing, and debt restructuring having held senior roles with Macquarie Bank, Lehman Brothers, Morgan Stanley, and Moody's. He holds a Master degree in Economics and Business from University of Rome "La Sapienza", a MSc in Real Estate Investment and Finance from University of Reading, and an MBA from CASS Business School.